Our dear readers,
Hello today! So we're going to be talking about the book Love, Lucy by April Lindner today! I wrote a celebration post, and April herself created a playlist and wrote about it in our last post, so check those both out before you read this! Otherwise, keep reading...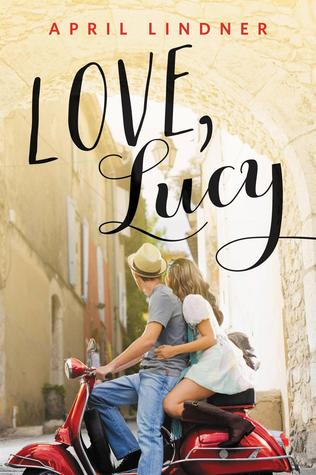 I'm in love with this cover!
Summary: "

While backpacking through Florence, Italy, during the summer before she heads off to college, Lucy Sommersworth finds herself falling in love with the culture, the architecture, the food...and Jesse Palladino, a handsome street musician. After a whirlwind romance, Lucy returns home, determined to move on from her "vacation flirtation." But just because summer is over doesn't mean Lucy and Jesse are over, too.
" (Thanks, Goodreads!)
Review: This book is amazing. I didn't expect any less from this author though, as her other two books are great as well! (Check out Jane and Catherine by April Lindner, too!) I have to say that this book is up for book of the year already for me. Lucy did exactly what I aspire to do -- travel to a foreign country across the pond. Her personality and actions are all realistic, and she'll have you grimacing with embarrassment and frustration, loving along with her, and aspiring to live out your dreams. Jesse is a guy who we all hope to run into and fall for in our lives, too. His character is surprising at points, but also sweet, and he leaves us hopeful. All I can say (without giving anything away) is that this book will have you on the edge of your seat, wanting the novel to at least tie up every loose end, which, of course, it does.
Recommendation: You may want to read this one in one sitting once you start, but make sure you read this on a weekend where you have enough time to do this. Eat some candy (sour gummy worms are best), sit in the sunshine (or at least sunshine spot on a chair inside), and read away! It's too good to read any other way!
Rating: 5/5 Italian flags
Till next time!
XOXO,
Lexi