Our Awesome Readers,
Today's novel took my breath away and also took my imagination on a rollercoaster of creativity!!! The amazing novel is Illusions of Fate by Kiersten White.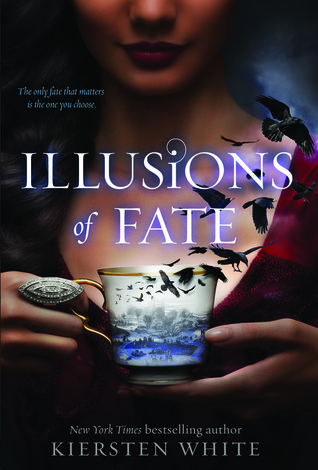 Summary: "
Downton Abbey meets Cassandra Clare in this lush, romantic fantasy from New York Times bestselling author Kiersten White.
"I did my best to keep you from crossing paths with this world. And I shall do my best to protect you now that you have."
Jessamin has been an outcast since she moved from her island home of Melei to the dreary country of Albion. Everything changes when she meets Finn, a gorgeous, enigmatic young lord who introduces her to the secret world of Albion's nobility, a world that has everything Jessamin doesn't—power, money, status…and magic. But Finn has secrets of his own, dangerous secrets that the vicious Lord Downpike will do anything to possess. Unless Jessamin, armed only with her wits and her determination, can stop him.
"
You will adore a bird. Yep, you read that correctly. You will adore and want to befriend a bird. One bird in particular, actually.
Anyways, this book was amazing. The imagery took my breath away, and the story had me guessing until the very end! I loved the chemistry and storyline so very much that I zipped through the novel as fast as I could while still savoring every bit of it! I truly loved this book.
The main character, Jessamin, felt like me; I could relate to her in certain ways, and in others, I wanted to be able to. I loved the fact that she was an outcast. As for Finn, I adored him. I loved his awkwardness and his magic. I love the back story as well, and the details in this novel!!! I recommend this novel to everybody and anybody that wants to read something worthwhile.
In Conclusion & Suggestions: Curl up with this novel on a cold day and read till your heart's content. Warning - You'll probably try to read this all in one night, and that's okay.
Rating:
5/5 crows
Till next time!!!
XOXO,
Alexis/Lexi