Aloha Hoalohas, ("Hello, my friend," in Hawaiian, cuz "Lilo and Stitch" is on!!!)
So what are y'all up to on this gorgeous day? Obviously looking at this book review, eh?
Okay, today's novel is The Season by Sarah MacLean.
The title and cover were enough to draw me in, but then you read this summary:
"
Seventeen year old Lady Alexandra is strong-willed and sharp-tongued — in a house full of older brothers and their friends, she had to learn to hold her own. Not the best makings for an aristocratic lady in Regency London. Yet her mother still dreams of marrying Alex off to someone safe, respectable, and wealthy. But between ball gown fittings, dances, and dinner parties, Alex, along with her two best friends, Ella and Vivi, manages to get herself into what may be her biggest scrape yet.
When the Earl of Blackmoor is mysteriously killed, Alex decides to help his son, the brooding and devilishly handsome Gavin, uncover the truth. But will Alex's heart be stolen in the process? In an adventure brimming with espionage, murder, and other clandestine affairs, who could possibly have time to worry about finding a husband? Romance abounds as this year's season begins!
" (Goody goody Goodreads!)
This novel was so much fun! Not only are these girls strong, they're also hilarious. They have attitudes when it's not acceptable, don't try hard during the season, and prefer adventure and near-death instead of waltzing around the room with potential suitors.
The fun and adventure in this novel is almost ever-present. I love that they act like Ash and I would in the same situation. The characters were very well-rounded, and every word and detail was needed and used properly. I love that you just get so sucked into the novel. I also love that I literally laughed out loud at parts, which I never do with a book. I felt a connection to this book, and I just love it.
For anybody who ever wanted to know what being a deb must have been like, g
o read this novel!
Rating: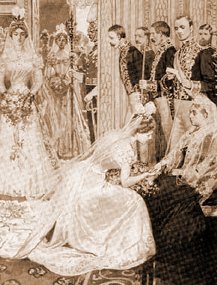 5/5 London women during the London Season
Love,
Lexi