So, obviously I'm missing Thursday's review, as y'all can see. I was in a lot of pain, and when I decided to take a pain pill, I was out like a light. In other words, I suck, and I'm very sorry. Today, I'm more used to the pain meds, so I'm back in the game!
Today will be a special book near and dear to my heart: Eloise by Kay Thompson. I blame my obsession with the books on the movies, and the movies I blame on Broadway star Gavin Creel, who was the love interest in "Thoroughly Modern Millie," and in "Eloise at Christmastime." The love of that came from an ex-friend. So, see, I have my reasons for reading all of the Eloise books.
Summary (done by Lexi): Eloise is a little girl (opening line: "I am Eloise. I am six.") that lives in the most wonderful place in the world, The Plaza Hotel in New York City. This version of the hotel is the original Plaza, before it was made to look as it does now. Back then, it was so very beautiful and elegant (go watch "Home Alone 2" and you'll see). Now, not so much. However, this little girl causes mischief in the hotel, and to the workers, including the head of the Plaza, Mr. Salamoney. And, of course, Nanny, who is her nanny. However, this naughty little girl who loves to have fun also has a big heart, along with a pug and a turtle. Reading her daily routine is enough of an excuse for a nap.
This is a book marketed to children, but adults and teens should read it, as it is like comfort food in the form of a book. I see the live action movies until I hit about 18, the movies at 20 or so. Now I have an Eloise zip-up hoodie, door hanger, bracelet, keychain, cap, and collection of books (minus the "bawth" one, because Kay didn't ever want that published). My mother even has called me her "little Eloise" at times.
The girl is too much to love. She has a whole back story, a complete and outrageous personality (you would, too, if you grew up with such posh living quarters and so many adults as your friends). Her mother is never shown, but she is a complete character as well, background story and everything. The books are a bit long for kids to handle unless they're older, which is another reason I think this is too perfect for teens and adults. You'll feel like her "mostly companion" once you read the first page and see the little ragamuffin for yourself. This cast of characters and locations to see are all structured and captivating. You'll lose yourself in the book, and want to move to The Plaza and play with Eloise!
Conclusion: These books are actually written much better than many adult and teen novels! The structure, world-building, etc. are all done like a pro. So, if you want to have a fun time, go read Eloise and take some notes from her! After all, a tissue box "makes a good hat."
Rating: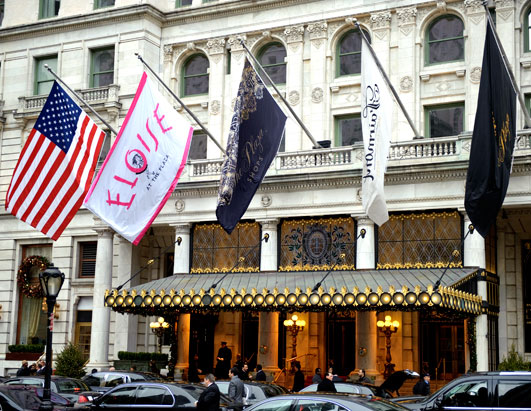 5/5 flags over The Plaza Hotel in NYC, NY!!!!!
Till next time, yours truly,
Lexi